Description
Collaborative Planning, Forecasting, and Replenishment CPFR®: Vendor Selection Guide for Managed Services in Retail and Consumer Goods
Whether one approaches commerce from the perspective of B2B, B2C or through multiple distribution channels as in B2B2C, it is imperative to interact and collaborate with one"s trading partners on some level. Large retailers such as Walmart, insist their trading partners collaborate at a granular level as a requirement to become a trusted supplier. Taking this one-to-many approach allows Wal-mart to compete on commodity pricing and delivery to order time-frames through a combination of collaborative business practices such as Collaborative Planning, Forecasting, and Replenishment and Vendor Managed Inventory [VMI]. Conversely, automotive manufacturers are more likely to foster one-to-one relationships with major suppliers of certain parts [20% of suppliers providing 80% of parts] while taking a tiered approach with the majority of its trading partners.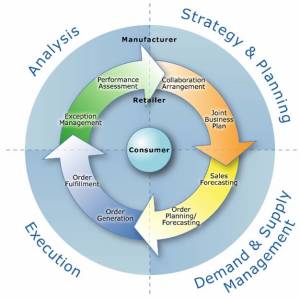 Collaboration with one"s demand and supply chain trading partners is a set of complex business processes comprised of:
Trust: Communication between companies and people
Business Processes: CPFR, S&OP, VMI, JIT, APS
Technology & Data: Automation, Validation & Synchronization
Performance: Visibility, Exception Alerts & Metrics
Originated in 1998 by the Voluntary Inter-industry Commerce Standards Association, [VICS], CPFR®
processes [Source; VICS Model] have been defined as a nine-step process focused on business process
collaboration. Industries that rely on complex demand, supply and distribution channels such as retail, grocery, consumer goods, food & beverage have adopted and benefited from collaboration practices
most often while in industries such as manufacturing, healthcare, defense, telecommunications or energy
and natural resources, collaboration is more likely to focus on processes such as:
Sales & Operations Planning
Demand Planning & Forecasting [constraints-based]
Vendor Managed Inventory
Just in Time Manufacturing [contract]
Advanced Planning & Scheduling
Vendor Selection: CPFR as a Managed Service
Since publication of "Business@ the Speed of Thought", organizations have sought to attain greater economies of scale, reduced costs or TCO, persistent and reliable communications networks, operational flexibility and agility, and industry expertise from vendors and service providers. Software as a service [SaaS] or software + managed services enables organizations to focus on core competencies while reducing implementation and internal resource expenditures. Not surprisingly, the ability to scale standard collaboration processes without incurring costs for additional resources, operational down-time, or training was found to be a compelling value proposition.
Vendor Selection Guide: 32 pages, 10 figures/charts, Walmart, Liz Claiborne, Motorola and Hillman Group cases studies. Table of Contents sent upon request to Research@HypatiaResearch.com