Takata Started with J-SOX Compliance; Plans to Expand
Takata is a global supplier of safety equipment for automotive industry OEMs, including seat belts, child seats, and air bags. Following Hypatia's recommended mantra of "start small and expand," the company deployed IBM OpenPages specifically for compliance with J-SOX, the Japanese equivalent of the U.S. Sarbanes-Oxley regulation.
According to Christian Ries, Head of Internal Audit for Takata EMEA in Aschaffenburg, Germany, Takata originally set up the risk assessment module for its internal control systems. A regional system integration consultant, Pentos AG, was engaged to deploy the application because the internal audit team at Takata preferred to focus on its core competencies and work directly with external expertise.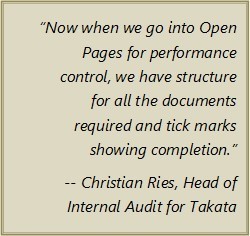 Current Environment
Takata uses IBM OpenPages for J-SOX compliance with six legal entities, but it plans to roll out risk management for an additional 23 legal entities across Europe. Like many global businesses, it used spreadsheets to manage risk prior to the deployment of a GRC application.
At present, Takata is using OpenPages to improve its internal financial controls. Any data that can end up in a financial statement requires a control to ensure both accuracy and completeness at multiple steps along the way (with regulations like J-SOX, management needs to be able to confirm accuracy). In the future, Takata plans to analyze and monitor business risk, strategic risk, environmental risk, and political risk as well.
In preparation for further expansion, the company has started work on defining various types of risk and processes for responding prior to investing further in IBM OpenPages. For Hypatia's Galaxy Evaluation of Vendors and additional business benefits on how Takata Started with J-SOX Compliance; Plans to Expand see:
"Enterprise Governance, Risk & Compliance Solutions: Risk and Rewards" ©2016-2017 Hypatia Research Group, LLC. All rights reserved. No part of this research study may be repurposed, distributed, translated or published in any format without the express written consent of the Hypatia Research Group, LLC and its management.