Sarbanes-Oxley: Catalyst for Manufacturer's Investment
Like any publicly traded company, this $3 billion manufacturer of microcontroller, memory and analog semiconductors must conform to the regulations set forth under the Sarbanes-Oxley rules for separation of duties. That's what led its CIO to deploy Dynaflow Solutions for compliance, both in IT and finance.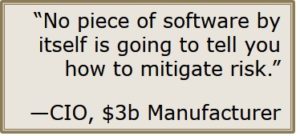 Previous Environment
Prior to deploying Dynaflow for its workflow and compliance features, the company used spreadsheets for managing controls. It went through a complicated and time-consuming process of combining the spreadsheets with text files for audit purposes. But the Dynaflow software gives the two dozen employees who use it more flexibility, efficiency and enhanced productivity.
Benefits to Date
This manufacturer uses the software in IT to manage other processes. When there are controls that are not finance-related, they are input into Dynaflow. An example of this is the company's process for checking on utilization of its uninterruptible power systems at regular intervals.
The CIO cautions, "Software won't guide you into writing better controls – it's just the place to document controls. But a documented system is more efficient than using paper. Now our checklists are electronic, so we can issue reports monthly or quarterly as necessary. That helps to manage controls and limits risk."
Software that's designed for Sarbanes-Oxley controls allowed this business to create an electronic version of its audit papers—work that is defensible for both an internal audit committee and public auditors. It also helps to show that the workflow engine is working correctly with inputs from around the world.
"Enterprise Governance, Risk & Compliance Solutions: Risk and Rewards with Vendor Galaxy Rankings" ©2016-2017 Hypatia Research Group, LLC. All rights reserved. No part of this research study may be repurposed, distributed, translated or published in any format without the express written consent of the Hypatia Research Group, LLC and its management.