Advanced Analytics & Big Data Insights
Delivering Big Data Analytics Insights: Why Choose Between Accuracy, Agility OR Speed?
Exploiting the value inherent in the analysis of continuously increasing volumes of Big Data is not new. For at least the last ten years, companies within industries such as financial services, insurance, consumer goods, entertainment, travel and hospitality have engaged marketing services providers to guide them in understanding, profiling, targeting and influencing customers to purchase their goods and services.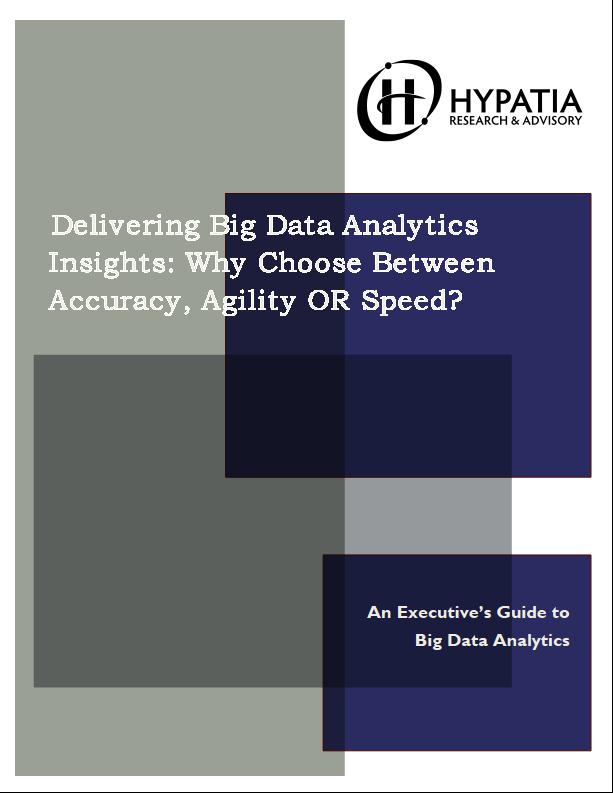 The upside to this arrangement is the ability to source unique expertise (such as data scientists, statisticians, and data modelers or data engineers) on a project or managed services basis without high investment in personnel, infrastructure (hardware or software) or integration of this enabling technology. Typical projects run from six weeks to six months depending upon the goals, project scope and execution plan. Key models or analytical insights collected from across a variety of sectors might be repurposed on various customer projects resulting in lower project fees . All of which may be viewed favorably by those in roles such as COO and CFO.
However, keeping analytical domain expertise in-house empowers companies to rapidly discover and apply unique insights created from proprietary and public information sources while the opportunity is viable. It is this speed to insight that is at the root of value creation in a Big Data Analytics environment.
Questions we recommend organizations ask themselves include: How many queries, accurate analytical models and reports does it take to support critical business decisions in minutes rather than weeks? How much is this worth to your business?
Research Approach
Our analysis of 436 Fortune 500 executives that actually utilize, recommend, influence, hold budget or veto power over the purchase of Big Data Analytics (BDA) or business intelligence software provides contrarian insight into how and why large organizations:
Invest in Big Data Analytics software solutions
Utilize a wide variety of informational sources
Measure productivity and effectiveness of BDA initiatives
Seek high accuracy and reliability of results
Realize downstream business benefits
Prioritize software selection criteria
This study provides end-user organizations with an analysis of why companies invest in Big Data Analytics solutions, what tangible benefits are possible with BDA, and what metrics can be used to measure the ROI of a BDA initiative. In short, our research provides actionable insight that companies may use in compiling a vendor short list, request for qualifications and best practice terms of engagement with software vendors.
 Decision Science & Customer Analytics: Competitive Advantage or Necessary to Compete?
Information is the currency that companies have used for competitive advantage in business since the earliest beginnings of barter negotiations and commercial commerce. Success in barter commerce often depended on knowledge of sources of food, labor or materials that could be exchanged. In today's highly competitive global economy, knowledge of consumer and business behavior, socio-economic, lifestyle and/or demographic information, can be transformed through information analysis [Known as Dec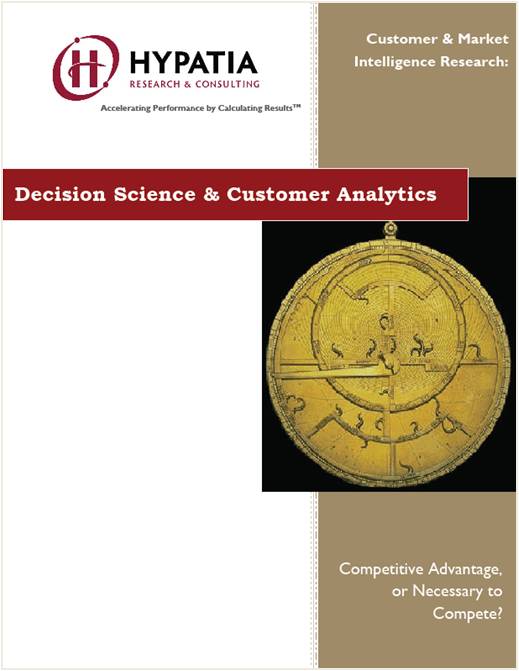 ision Analytics, Marketing Science or Customer Analytics in North America] into actionable insight. It is this insight that provides key decision-making support to companies that seek to enhance profitability and/or gain a competitive business advantage.
Wal-mart, American Express, Coca-Cola, Staples, Best Buy, Harrah's Entertainment, Procter & Gamble, Toyota, Hilton International, AOL, IBM and Oracle are among numerous blue-chip companies that believe leveraging business and consumer data is necessary to compete in today's economy. What used to provide a "secret sauce" or competitive advantage to companies savvy enough to exploit the value of customer data within their own proprietary databases.
Previous quantitative research performed by Hypatia revealed that use of timely, complete, and accurate information leads to improved customer service levels, reduced operational costs, increased revenues, and higher customer satisfaction and retention rates. In short, it's all about revenues and customers—market share growth and enhanced retention rates. In fact, use of marketing science and information analysis services has moved beyond a competitive advantage for companies that seek to grow aggressively. It has become necessary to stay in the game.
Operationalizing Enterprise Voice of of the Customer: 2014-2015 GalaxyTM Vendor Evaluations
Much has changed since Hypatia published the first industry analyst research on Voice of the Customer (VOC) software, services and technologies back in 2011. At that time, leading vendors that supported unified VOC analysis via multichannel or omni-channel VOC capabilities comprised  25+ in all.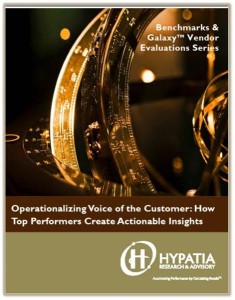 Now, support of multichannel VOC is considered table stakes in this GalaxyTM evaluation study. In 2014, other vendors have been added–as each has presented us with compelling multichannel offerings that vary based on specific business applications.
In preparation for this update, we surveyed and interviewed over 500 global end-users of VOC technologies. Respondents encompassed:
North American (35.7%)
Asia Pacific (34.7%)
European respondents (28.8%)
Middle East & Africa (~1%)
We found that sophistication, maturity levels and the ability to create effective closed loop business processes varied widely across industries, company size and geography.
What has changed significantly is the volume and number of data sources and channels, inclusive of mobile device, kiosk, POS and tablet that are able to feed into the analysis of contextual VOC information via enabling VOC software, services and technologies. While our evaluation of VOC has always included both contextual information (qualitative) as well as structured information (quantitative), the sophistication, complexity, and expertise required to design an effective enterprise-level VOC program is still  lacking in a majority of organizations.
Don't Be Shy
Drop us a line anytime, and one of our account managers will respond to you as soon as possible. Phone: 1-781-862-5106
Email us today!