Complimentary Enterprise Risk Management Best Practices Research
All qualified respondents who complete the survey may request a COMPLIMENTARY executive summary of this study at: Research@hypatiaresearch.com.
The arc of enterprise risk management is shooting away from instinct toward insight. As enterprises compile more and more data, relying on everything from GRC software solutions (which Hypatia has covered extensively in 2011 and 2014) to advanced analytics capabilities, executives have been able to base decisions increasingly on fact rather than fancy. There will always be an element of uncertainty re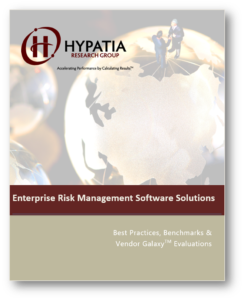 lating to proactively addressing risk, which means that the human factor will always be present, but the ability to compile and analyze more metrics from more sources for more departments and functions means that executives will be able to make determinations about risk with higher levels of fact-based certainty.
Please start our Enterprise Risk Management Software: GalaxyTM Vendor Evaluations survey now by clicking on the link below.
Hypatia defines enterprise risk management as the process of determining the element of uncertainty when it comes to strategic investment, market growth and expansion, product development, commodity costs and other forward-looking issues. In this research report, Hypatia will conduct a compare-and-contrast of both legacy and upstart enterprise risk management (ERM) vendors, in order to help enterprises determine who best serves their industry needs.
Enterprise Risk Management Software: Best Practices, Maturity Models and GalaxyTM Vendor Evaluations ©2016 Hypatia Research Group, LLC. All rights reserved. No part of this research study may be repurposed, distributed, translated or published in any format without the express written consent of the Hypatia Research Group, LLC and its management.