Delivering Big Data Analytics Insight: Why Settle for Accuracy, Agility OR Speed? (Why Not All Three?)
Exploiting the value inherent in the analysis of continuously increasing volumes of Big Data is not new. For at least the last ten years, companies within industries such as financial services, insurance, consumer goods, entertainment, travel and hospitality have engaged marketing services providers to guide them in understanding, profiling, targeting and influencing customers to purchase their goods and services.
The upside to this arrangement is the ability to source unique expertise (such as data scientists, statisticians, and data modelers or data engineers) on a project or managed services basis without high investment in personnel, infrastructure (hardware or software) or integration of this enabling technology. Typical projects run from six weeks to six months depending upon the goals, project scope and execution plan. Key models or analytical insights collected from across a variety of sectors might be repurposed on various customer projects resulting in lower project fees . All of which may be viewed favorably by those in roles such as COO and CFO.
However, keeping analytical domain expertise in-house empowers companies to rapidly discover and apply unique insights created from proprietary and public information sources while the opportunity is viable. It is this speed to insight that is at the root of value creation in a Big Data Analytics environment.
Questions we recommend organizations ask themselves include: How many queries, accurate analytical models and reports does it take to support critical business decisions in minutes rather than weeks? How much is this worth to your business?
Research Approach
Our analysis of 436 Fortune 500 executives that actually utilize, recommend, influence, hold budget or veto power over the purchase of Big Data Analytics (BDA) or business intelligence software provides contrarian insight into how and why large organizations:
 Invest in Big Data Analytics software solutions
 Utilize a wide variety of informational sources
 Measure productivity and effectiveness of BDA initiatives
 Seek high accuracy and reliability of results
 Realize downstream business benefits
 Prioritize software selection criteria
This study provides end-user organizations with an analysis of why companies invest in Big Data Analytics solutions, what tangible benefits are possible with BDA, and what metrics can be used to measure the ROI of a BDA initiative. In short, our research provides actionable insight that companies may use in compiling a vendor short list, request for qualifications and best practice terms of engagement with software vendors.
Assessment:
Enterprises are still in a nascent maturity level in their ability to rapidly perform and exploit the intelligence derived from analysis of Big Data in-house. Of the thirty point five percent (30.5%) of companies citing more than five years' usage of Big Data Analytics, a full eighty nine point three percent (89.3%) of these early adopters cited engaging with managed service providers rather than create in-house competencies.
Our assessment is that this is partially a result of:
 Shortage of expertise available
 High barrier to investment: software and hardware
 Limited access to, or ability to fully use all information sources desired
 Sophistication level of software and hardware available
 Demand for Big Data insights in near real-time
 Uncertainty in cost of ownership versus potential return on investment
Figure 1: Usage of Big Data Analytics Initiatives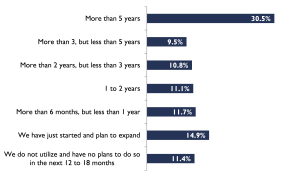 ©2014-2015 Hypatia Research Group, LLC. All rights reserved.
However, early results from our research demonstrate that successful organizations do benefit from significant double-digit downstream business benefits as well as operational cost take-outs. In years one through four, between sixty nine to eighty four percent of organizations realized between twenty to fifty percent annual return on investment (ROI); top performers cited attaining an ROI of greater than fifty percent on an annual basis.
A deeper analysis shows that these top performers benefit from greater sophistication, maturity of experience, and discipline in employing BDA processes in ways that impact the business. Rather than taking an opportunistic or laboratory approach, these companies are more likely to create corporate, operational or tactical objectives, align performance metrics with goals, and prioritize their focus on specific business use cases.
Driven by the convergence of business at speed of light requirements—such as ever increasing competition for market-share and share of customer, combined with proactive management of enterprise risk and optimization of spend intelligence—an inflection point will soon be reached. We estimate this will occur within the next three years at upper mid-market and large enterprise organizations. For more on this topic see ©2014-2015 Hypatia Research Group. All Rights Reserved. | "Delivering Big Data Analytics Insights: Why Choose Between Accuracy, Agility OR Speed?"