Auditing Financial Risk Processes Across 215 Branches at Nacional Monte de Piedad
This loan-services firm based in Mexico City, uses Mega International software solutions for documenting and auditing its financial business processes across its 215 branches in Mexico. Previously, the firm kept all of its data in Microsoft Excel, and much of the work was done manually.
Benefits to Date
According to Alejandro Uribe, leader of systems management at the firm, auditing review projects that previously took one to two months now take one to two weeks. "We have more control over everything we do. We have much more structure, because our business processes model is connected with our auditing model." The firm also takes significant advantage of the workflow function within Mega to ensure prompt notifications.
In the future, Uribe is planning to implement more modules from Mega, including thos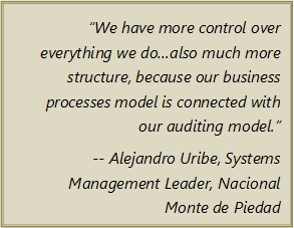 e for budget tracking. That will enable them to generate alerts if someone exceeds their allotted budget.
Lessons Learned
Other executives looking at GRC software in the cloud should ensure that they address potential performance issues of the underlying hardware. Uribe also recommends avoiding extensive customization because of potential ramifications when upgrades are issued.
"Enterprise Governance, Risk & Compliance Solutions: Risk and Rewards with Vendor Galaxy Rankings" ©2016-2017 Hypatia Research Group, LLC. All rights reserved. No part of this research study may be repurposed, distributed, translated or published in any format without the express written consent of the Hypatia Research Group, LLC and its management.