27 Brand Mandate at L'Oreal
Leveraging Value via Social Analytics & Intelligence
L'Oréal USA, headquartered in New York City, with sales of $5 billion and 9,800 employees, is a wholly-owned subsidiary of L'Oréal SA, the world's leading beauty company L'Oreal, (OR:EN Paris), (LRLCY:OTC US), with a portfolio of 27 international, diverse and complementary brands such as Garnier, Kérastase, Essie, Lancôme, Giorgio Armani Beauty, Yves Saint Laurent Beauté, and The Body Shop and was founded over 100 years ago.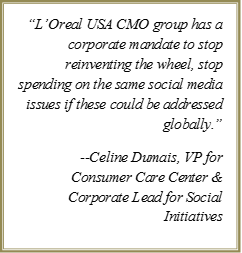 Corporate Goals:
As a consumer goods company operating in over 50 countries worldwide, each with distinct cultures, languages and preferences for how customers wish to purchase, interact and communicate with the brand, L'Oreal USA executives were looking for an enterprise approach to social media and initially, three core objectives were identified:
 Monitoring relevant topics and issues by volume, share of voice and timeframe;
 Outreach and engagement via customer service and support functions;
 Creation of business and customer insight for multiple stakeholders in various functions across numerous geographies and cultures.
Sounds simple, n'est-pas?
Challenges:
Social media in 2012 is hotter than summer in Morocco. Each brand and each department is interested in funding and acting on pertinent insights that might be derived from consumer feedback and user generated content. If allowed to grow organically within L'Oreal, silos could abound and each department in each brand would focus on what is most important to them only. Establishing a global enterprise approach with the goal of meeting the needs of all business stakeholders was a formidable decision, but very necessary to align with the company's goal of achieving global solutions.
Breaking-down silos enable brands to not only meet the requirements of all business stakeholders but also to exceed expectations. Otherwise, the result would likely be inconsistent, inefficient and costly ad hoc efforts to utilize social media.
It is not surprising that a large organization the size of L'Oreal has a wide variety of business needs when it comes down to reasons for utilizing social media. For example, in addition to brand and reputation monitoring, this personal products company also wanted to employ social media tools for these business use cases:
 Risk and crisis management;
 Product Ideation and innovation;
 Competitive Intelligence;
 Insight into consumer behaviors or purchase triggers;
 Customer service and support;
 Relationship building.
In addition, the company quickly found that the high volume and velocity of conversations made it impossible to handle this manually even with additional resources allocated to finding, managing and analyzing topics and issues of relevance.
For the first two years, L'Oreal employees used "training wheels" in the form of free tools and then adopted Salesforce Radian6 across several geographies. At this point, classification of topics aided in "finding relevant needles in the haystack," but the volume and velocity continued to increase as more consumers migrated to using social media. Managing this became too challenging to be as effective as desired for the company and other solutions were put on the table for consideration…vendor selection criteria continued in "Social Analytics & Intelligence: Converting Contextual to Actionable Insight"
Lessons Learned & Results:
In order to successfully break down internal silos and create truly collaborative cross-functional teams, top management support is essential. As with all new tools, a lot of people want to not only play with them, but retain ownership of the business benefits.
At present, the consumer care group manages the data and the conversations in real time. This group is already used to manage real time consumer interactions with other channels, phone and email, and as consumer conversations can be across multiple channels, social can become an escalation mechanism if an issue is not resolved promptly.
Currently, only three objectives are measured in order to enable the line of business executives to take action effectively. In 12 months L'Oreal expects to significantly reduce agency costs and has plans to realize significant return on investment by using social customer intelligence to dynamically adapt creative content online in real time interactions with customers with the goal of influencing their purchases more effectively.
Hypatia's Assessment:
With a corporate strategy, operational plan, extensive domain expertise, performance metrics and phased approach, L'Oreal exemplifies one of the most mature levels of social analytics and intelligence usage from among the companies interviewed. (This Business ROI Evaluation is excerpted from: "Social Analytics & Intelligence: Converting Contextual to Actionable Insight" ©2012-2016 Hypatia Research Group. All Rights Reserved.